What is Form 8974?
---
Form 8974 is used to determine the amount of small business payroll tax credit (used for increasing research activities) that can be claimed on Form 941, 943 & 944. This payroll tax credit is against the employer portion of social security
tax on the wages of your employees.
Note: If you run a small business or startup, claiming the tax credit for increased research activities through Form 6765 requires you to attach Form 8974 on your 941, 943 or 944 Forms to determine the actual amount of research tax credit.
How to Generate Form 8974 with ExpressEfile?
---
STEP 1

When preparing Form 941, ExpressEfile will automatically provide Form 8974 if you enter "Qualified small business payroll tax credit" under
Part 1 - Line 11 .

STEP 2

Complete Part 1 of Form 8974. Part 2 will be autofilled based on the values that you enter on Form 941.

STEP 3

Upon completion, download your Form 8974 and Form 941 copies for free.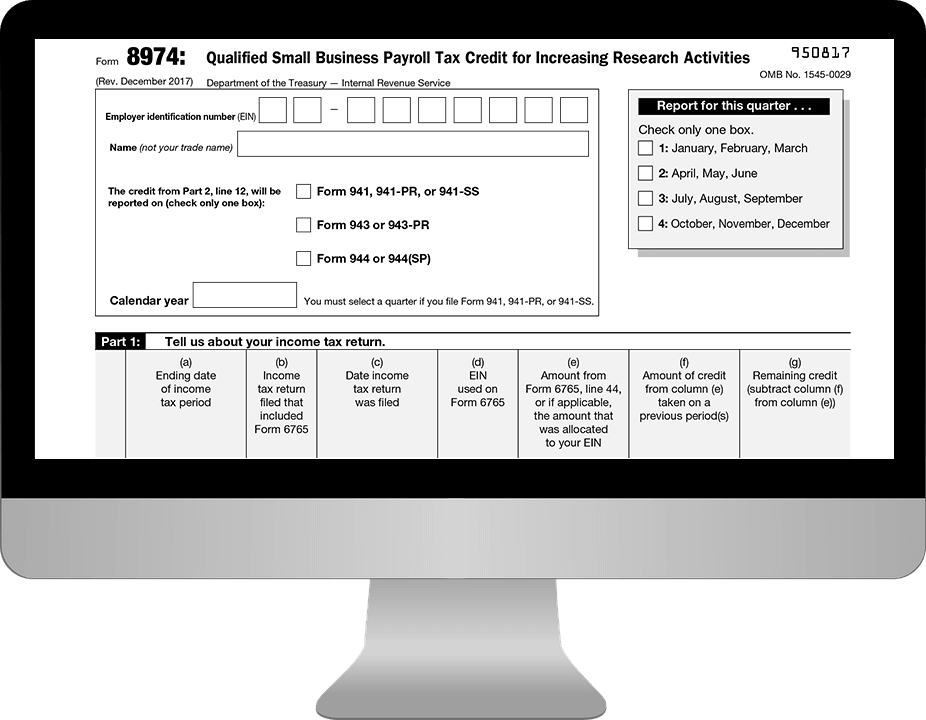 Download Form 8974 for Free
---
With ExpressEfile, it's always free to download Form 8974. All you have to do is enter your "Qualified small business payroll tax credit" information on Form 941, then complete the first part of Form 8974. The rest will be filled out automatically, and you can download Form 8974 along with your Form 941.
Download Now
E-file Form 8974 with Form 941 in Minutes
---
Upgrade from paper filing and e-file Form 941 for just $3.99 per form. Add Form 8974 for just $0.49 per form
when you e-file with ExpressEfile.