Free Online Paystub Generator
Generate Pay Stub Now
Create First Paystub for Free.
Pay only $3.99/stub from the second paystub.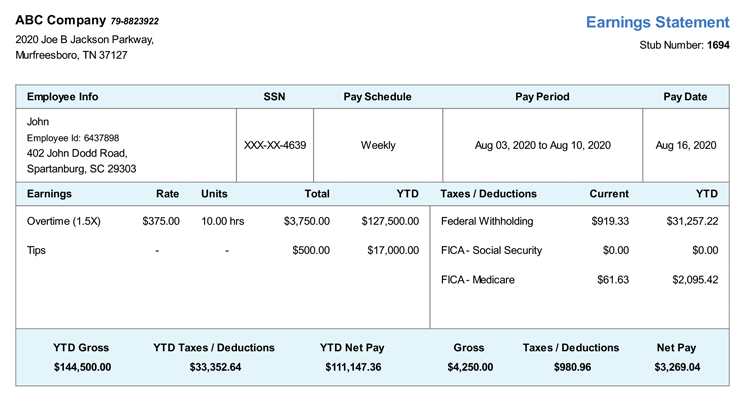 123PayStubs, our sister product, lets you create pay stubs easily with accurate tax calculations.
Create Pay Stub Now
Generate Paystubs Online Now with our Free Paystub Generator
---

Accurate Tax Calculations
Our free online paystub generator automatically and accurately calculates your federal and state income taxes, FICA taxes such as Social security and medicare taxes.

Supports 2020
Form W-4
We calculate Federal withholding based on the new 2020 Form W-4 to increase the accuracy in the calculations.

Lowest Price
You can always generate your first pay stub for free. After that, it's only $3.99/stub. Which is the lowest price in the industry.

Download or Email Paystub
You can download, or email the paystub directly to your employees or contractors. You can also edit the paystub prior to downloading for
any corrections.
Generate paystubs easily with our Online Paystub Generator
Generate Pay Stub Now
Why Should You Choose our Online Paystub Generator?
---

Generate Unlimited Paystub
Instantly

Manage Additional Earnings
& Deductions

Accurate Federal & State Tax withholding Calculations

Choose from multiple and free
Paystub Templates

Includes Year to Date (YTD) and FUTA, SUTA Calculations

Lowest Price in the industry
How to Generate Paystub Online using our Paystub Generator?
---
Step 1:

Enter Paystub Details

Enter the company, employee and compensation details. Choose pay schedule, pay day and enter hours worked.

If required, you can also add and manage additional earnings and deduction, YTD (Year to Date), and withholding calculation based on new Form W-4.

Step 2:

Preview and Generate Paystub Online

After entering all the required details, you can preview the paystub to see the information you entered is correct. If everything looks perfect you can continue with downloading the paystub.

If there is any mistake on your paystub you can edit the paystub and make necessary corrections before
downloading it..

Step 3:

Download or Email Paystub

You can view and download your paystub or you can add another paystub if required. There is no limit in adding the paystub to
your account.
You can even email the paystub to your
employees directly.
Frequently Asked Questions on Paystub Generator
---
Can I generate the paystub for free?
Yes, you can always generate the first paystub for free. After that its only $3.99 per stub from the second stub. It is the lowest price in the industry. You can compare us with others and even save more on your running cost.
Can I change the look of the pay stub template?
Absolutely, you can change the look of the pay stub template by choosing any design from our list of templates. All our paystub templates are free, and you can change templates even after generating the pay stub.
How to create a paystub as self-employed?
Are you self-employed yet want evidence of income? Paystubs can be generated in 3 simple steps. Simply input a few basic details, such as company and personnel information, and preview them to ensure that all of the information collected is accurate. Finally, you may download, print, or email the self employed pay stub to yourself.
Are the taxes calculated on pay stubs accurate?
Our paystub generator is also a tax calculator which accurately calculates all the Federal and State taxes based on the current tax laws and the details that you have entered. We assure you that our calculations are accurate and automatic.
When will my employee receive the pay stub?
Once you generate paystub template, you can either download and send it to your employee or you can email it directly from our system. You employee will receive an email in a minute or two the moment you choose to send paystub using our system.
How to check the paystub history?
You can view the list of all the past pay stubs created for the employees under the "Order History". In addition to this, you can also download, or email the pay stub whenever required.