Step 1
Choose Form & Fill In Details
ExpressEfile lets you generate Form 941 for free!
Select Form 941 and fill in required fields to complete the form.
After entering values on both pages of Form 941, Click "Save and Continue" to proceed.
Step 2
Complete Schedule B (Form 941) & Form 8974 (if required)
Easily generate Schedule B (Form 941) and Form 8974 for free along with your Form 941.
You will be taken to Schedule B, if you have chosen the option "You were a semiweekly schedule depositor for any part of this quarter" under "Form 941 Part 2 of line 16" and will be prompted to enter values on Schedule B. Click "Save and Continue" to proceed.
If you entered values on "Line 11 of Form 941," then Form 8974 will be enabled for you. Enter all required information and click "Save and Continue" to proceed.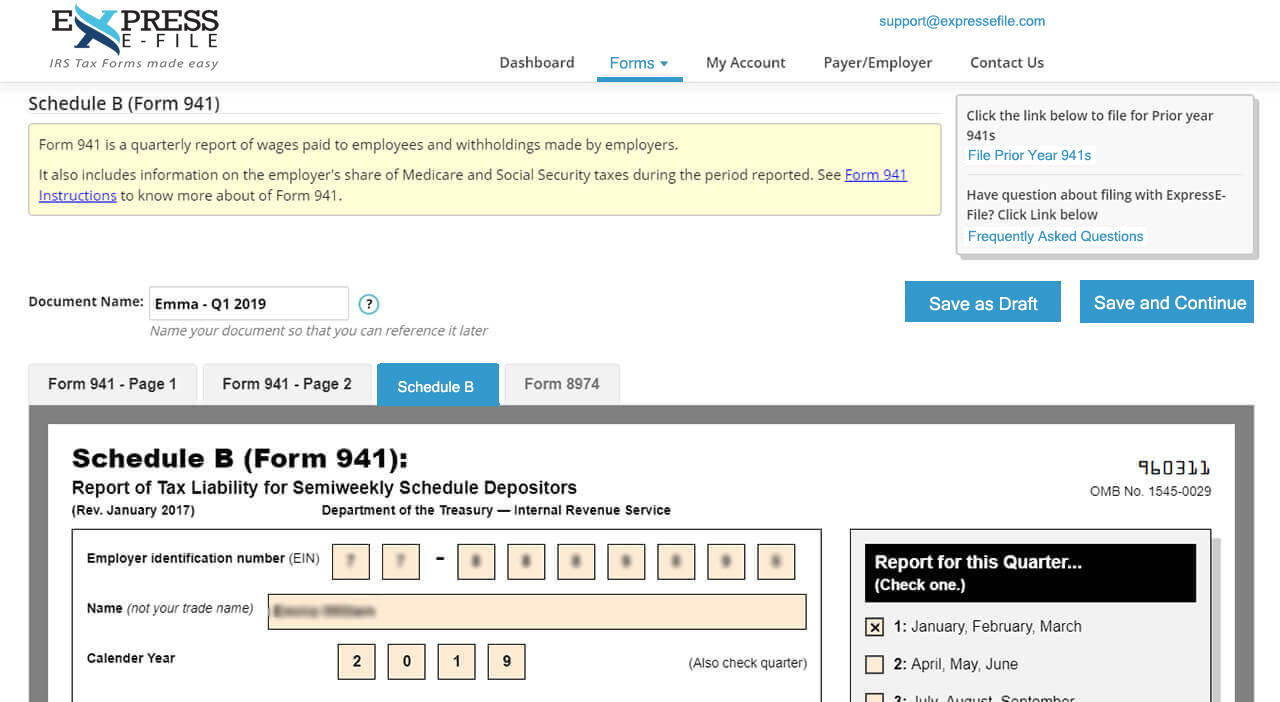 Step 3
Download & Print Forms for Free!
Conveniently generate, download, and print 941 Forms for free with ExpressEfile.
You will be taken to the "Form 941" page which provides an option to "Download" or "E-file" your Form.
Choose "Do It Yourself" to download Form 941 for free, including Schedule B, Form 941-V and Form 8974.
On the next screen, choose the form you need or click "Download All" to download form copies to your desktop or mobile device. You can then print the downloaded forms on your own and send it to the IRS.
Step 4
E-File Form 941 Directly to IRS
Choose "IRS E-File Compliance" to e-file Form 941 directly with the IRS.
On the next step, you will be taken to the screen where you have to sign your Form 941 either by using the "94x online signature PIN" or "Form 8453-EMP." If you have a PIN, enter it, or choose "Form 8453-EMP."
If you choose Form 8453-EMP you will be prompted with two options: "E-Sign" or "Upload Signed Form." Simply e-sign your auto-generated Form 8453-EMP or download the form, sign manually, and upload.
After signing your Form 941, our system will begin processing your forms to ensure that each are error-free to transmit with the IRS. Corrections can be made by clicking "Fix Me." Click "Next" to proceed.
Note: If you owe any balance due, be sure that you take the responsibility for making payments to the IRS.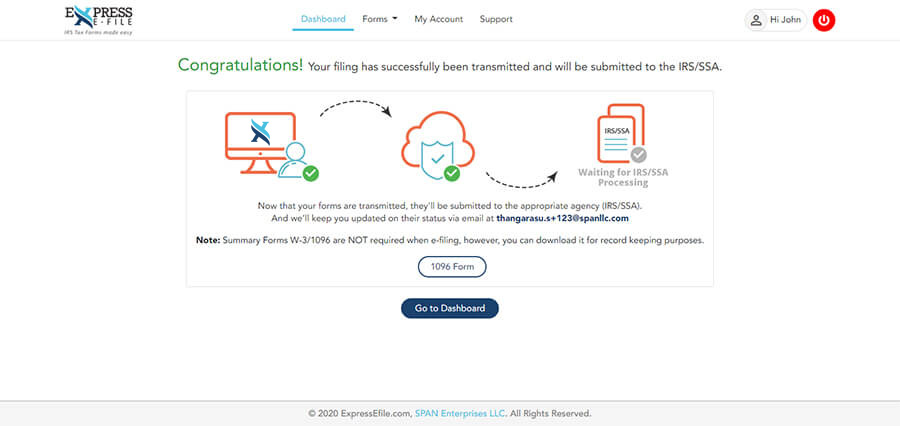 Step 5
Transmitting your Form 941 to IRS
You can review a summary of your form and edit information, if required. Click "Pay and Transmit the return to the IRS" to complete your federal e-filing.
Your return will be directly transmitted to the IRS and ExpressEfile will notify you via email regarding your filing status.
Easily check the status of your filing right from your ExpressEfile account.